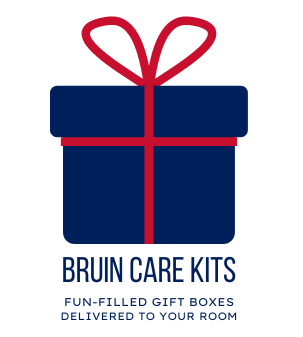 Bruin Care Kits are fun-filled gift boxes that are delivered straight to your student's residence hall each month. They act as a care package filled with items your college student will love!
Each box adheres to a different monthly theme and contains unique items you might not find in stores. These delightful boxes will often include things like sweet treats, salty snacks, and quirky products to break up the monotony of studying and make your student smile. BCKs are a great way to show just how much you care about your student, even from a distance!
Parents can include a personalized encouragement note to their student with the option of a customized Parent Postcard; this information will be sent monthly via the parent email you provide upon purchase. You can also order a birthday box which will be delivered in the month of your student's birthday. Order your BCK today!